French Toast Casserole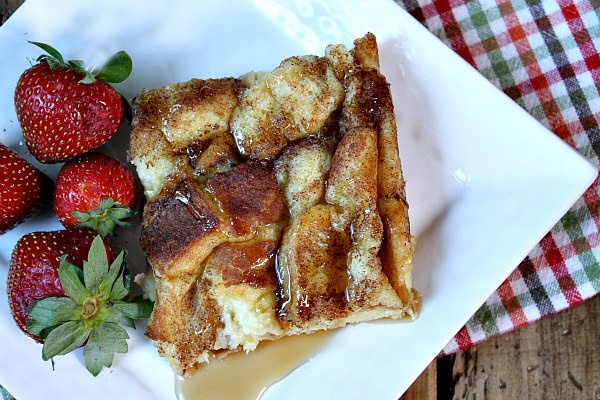 This breakfast casserole is an easy way to make French toast for the family all at once- and it's perfect for the holidays when you can make it the night before and just pop it into the oven the next morning. It's super easy to prepare, and it's a no-fuss, no-fancy kind of special meal to share with family.
INGREDIENTS:
CASSEROLE:
10 to 12 ounces french bread loaf, cubed
8 large eggs
3 cups whole milk
2 tablespoons granulated white sugar
1 tablespoon vanilla extract
1/2 teaspoon salt
TOPPING:
2 tablespoons cold butter, chopped into tiny pieces
3 tablespoons granulated white sugar
1 teaspoon ground cinnamon
Plus warm maple syrup, for serving
DIRECTIONS:
Spray a 9x13-inch pan (or similar casserole dish) with nonstick spray. Sprinkle the bread cubes in the prepared pan.
In a large bowl, whisk together the eggs, milk, sugar, vanilla and salt. Pour the egg mixture over the bread cubes. Cover with plastic wrap, pressing the plastic down against the bread cubes to submerge them in the egg mixture. Refrigerate for at least 4 hours or overnight.
Remove the pan from the refrigerator 30 minutes prior to baking to let it warm up closer to room temperature. Preheat the oven to 350 degrees F.
Remove the plastic wrap and discard. Sprinkle the butter pieces evenly over the casserole. Combine the sugar and cinnamon and sprinkle that evenly over the top of the casserole.
Cover the pan with foil and bake for 45 minutes. Remove the foil and bake for an additional 15 minutes. You'll see the casserole puff up considerably- it will settle down once you remove it from the oven and it begins to cool. Serve warm slices with warm maple syrup.
pint it