Chex Mix in the slow cooker with this easy recipe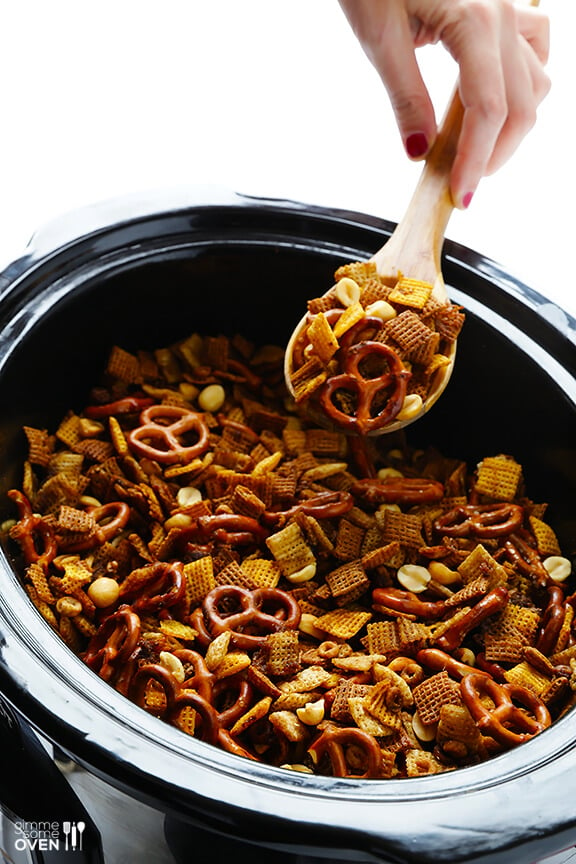 I will say, my biggest question was whether or not making Chex mix in the slow cooker would actually be any easier than the microwave or oven versions. And to be honest, I don't think it's any easier. Any of those versions require you to keep an eye on the cooking process and give the mix a stir every so often. And the slow cooker version certainly takes the longest of the three methods.
But it does do a remarkable job of making your home smell like yummy Chex mix. And if you happen to be hanging near the kitchen for a few hours — say, when you're cooking another meal, or having people over for a party or to watch the big game, it would be fun to try it in the slow cooker. Or, you know, if you are just looking for an excuse to make another batch, it's definitely something that ever Chex-mix-lover should try. ;)
So here's how I made it. Enjoy!
INGREDIENTS
:
9 cups Chex cereal (I used equal parts corn, rice, and wheat Chex)
2 cups pretzels
1 cup Cheerios
1 cup peanuts
1/3 cup (6 Tablespoons) butter, melted and hot
1 Tablespoon seasoned salt
1/4 cup Worcestershire sauce
1 teaspoon garlic powder (optional)
DIRECTIONS
:
Add cereal, pretzels, cheerios and peanuts to the bowl of a slow cooker.
In a separate bowl, whisk together butter and seasoned salt until the salt is dissolved. Stir in the Worcestershire sauce until combined.
Drizzle the sauce evenly over the top of the cereal mixture. Toss for about 1 minute, or until the mixture is evenly combined.
Cover and slow cook on low for 3 hours, stirring at the 1 hour, 2 hour and 2.5 hour marks so that the mixture does not burn. Then spread the mixture out onto a few baking sheets or parchment paper in an even layer until it cools to room temperature. Serve, or store in a sealed container for up to 3 weeks.
*If your slow cooker does not have a tiny hole in it to let air escape, it may collect too much condensation which could make the Chex Mix get too soggy. If that is the case, another great method is to place a towel (or a few layers of paper towels) just under the lid of the slow cooker, to collect the condensation.*
*Legally, I have to mention that you do so at your own risk, as technically that could be a fire hazard. But I've used that method for years with crispy slow cooker recipes, and have never had a problem.
Source:
gimmesomeoven.com
pint it